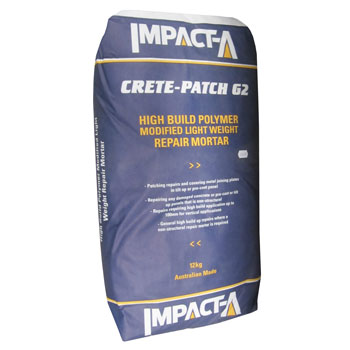 IMPACT-A Crete Patch G2

10051
A fine filled, polymer modified, cementitious mortar, specifically formulated for the repair of damaged concrete, covering joiner plates and similar applications. Crete-Patch G2 requires only the addition of water.
High build polymer modified light weight repair mortar
Use on repairs requiring high build application up to 100mm for vertical applications
For use in building up repairs when non-structural repair mortar is required
4 hour fire resistant
PDF Downloads :

1083-Crete-Patch (1).pdf
Download Safety Data Sheet
---
To buy IMPACT-A Crete Patch G2, please use the Store Locator below.