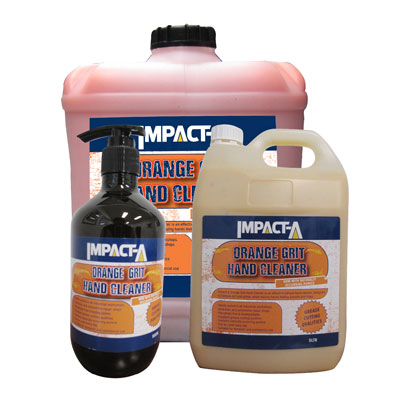 IMPACT-A Orange Grit Hand Cleaner

Impact-A Orange Grit Hand Cleaner is an effective natural hand cleaner combining citrus oils with lanolin and coconut oil to provide a rich creamy lather, leaving hands feeling smooth and clean with a lingering citrus fragrance.
It also contains naturally occurring pumice that acts as an abrasive to loosen and remove dirt, grease and grime from the
hands, without irritating the skin.
Ideally suited in all industrial workshops, worksites and automotive repair shops
Phosphate free & biodegradable
Excellent grease cutting qualities
Contains naturally occurring pumice
Can be used every day
Suitable for domestic and commercial use
CODE: 28367 - 500ml
CODE: 28633 - 5Ltr
CODE: 28365 - 20Ltr
PDF Downloads :

1078-Orange Grit Hand Cleaner.pdf
Download Safety Data Sheet
---
To buy IMPACT-A Orange Grit Hand Cleaner, please use the Store Locator below.