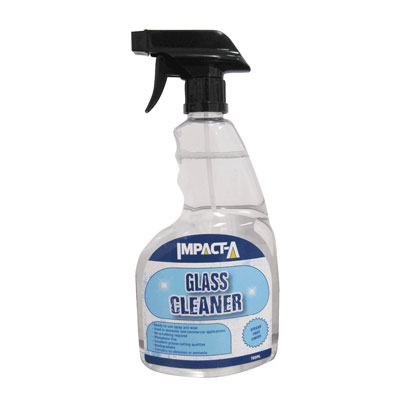 IMPACT-A Glass Cleaner 750ml

Impact-A Glass & Window Cleaner is designed to cut through heavy soiling and residue quickly and easily, leaving a streak free finish.
Impact-A Glass & Window Cleaner can be used internally and externally to clean windows or glass surfaces in domestic or commercial applications.
Has excellent wetting and soil-cutting qualities, which result in a streak free sparkling finish.
Contains no abrasives and is environmentally friendly, making it perfect for use around the home or in commercial use.
Ready to use spray and wipe
Used in domestic and commercial applications
No scrubbing required
Phosphate free
Excellent grease cutting qualities
Contains no abrasives or ammonia
Can be used on tinted windows
CODE: 12908 - 750ml
PDF Downloads :

1073-Glass Cleaner .pdf
Download Safety Data Sheet
---
To buy IMPACT-A Glass Cleaner 750ml, please use the Store Locator below.