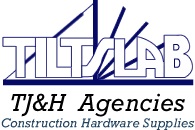 T: 08 8409 3400
F: 08 8409 3450
E: wayne@tjhagencies.com.au
W: http://www.tjhagencies.com.au
Address:
70a Rosewater Terrace
Ottoway SA 5013
Trading Hours:
Mon - Fri: 7:00am - 5:00pm
T J & H Agencies is a specialist supplier of concrete lifting systems, concrete fixing systems and all associated products to the pre-cast, tilt-up and general concreting sectors of the construction industry. With a dedicated team and the backup and support of leading brand name suppliers we provide complete reliability in service, supply and support to our clients. To complete the package, Tilt-slab Supplies, a sister company, has 8 sizes of push pull props and accessories for hire.